Listing ID: 5199 Last Refreshed: 07/05/2019 Total Views: 4556
Looking To Sell Off A Small Part Of Inventory.25% ROI
Singapore
Asking Price:

S$

11,436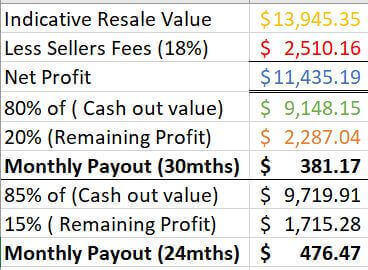 Premise Type

N/A

Premise Size

N/A

Monthly Rental

N/A

Rental Desposit

N/A

Revenue

N/A

Cash Flow

N/A

Gross Profit

N/A

Net Profit

N/A

Stock

S$13,945

Liability

N/A

Payable

N/A

Receivable

N/A

FFE

S$0

Established

2017

Owner Role

Full Time

Staff

N/A

Reason For Sale
Raising Cash
Description
We are an import and export trading company that mainly deals with wide range of niche products. We are looking to fund the next project and we are selling a small part of our inventory is already selling and in 2 mths we have cleared about 8% of our inventory the turnover is quite slow and we are looking to expand our products in order to rake in more revenue. We are expecting it to clear out within 24mths to 30mths max.
Here is what I will propose: The total resale value of the proposed inventory after any fees/charges will be SGD 11,435.18, I am looking to cash out 80%-85% of the net indicative value leaving the remains to the investor.

1) I will still be working on selling the inventory ( Currently it is being semi-automated)
2) Payments will be monthly basis via cheque from my company to ensure accountability if any legal issues arises.
3) Payout is fixed and final. No advance payout. 24 or 30 months term.
4) Return on investment is projected to be 20%-25%.
5) Able to show screenshots of sales.
6) Sales are mixture of online sales and offline cash transaction.
7) What I am offering is deemed reasonable to both the investor and me.
8) This investment is low risk, as each month there will be sales to cover the amount.
9) If the item cleared out before the agreed terms, instant payout to end the partnership. Win win situation.

Premium Buyer
Business Statistics

Date Published

Last Update

Total Enquiries

Last Enquiry

Contact Information

Contact Person

Contact Number

Email

Company Name

Address

Website