Listing Id: 27507
Last Refreshed: 08/03/2023
Total Views: 1033
Construction Company With License / Quota And $1.3m Revenue Business For Sale
Bukit Batok
Construction Contractor
Asking Price: S$1,000,000(Neg.)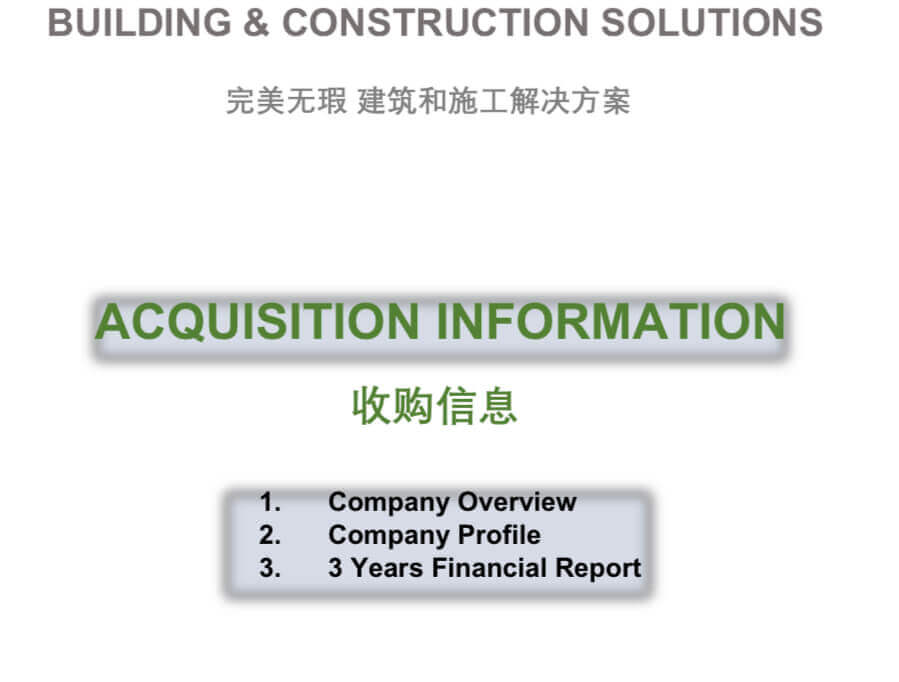 Premise Type

Office Building

Premise Size

N/A

Monthly Rental

N/A

Rental Desposit

S$50,000

Revenue

S$1,300,000

Liability

S$0

Gross Profit

N/A

Net Profit

S$278,000

Stock

S$0

FFE

N/A

Payable

N/A

Receivable

N/A

Owner Role

Full Time

Staff

40

Established

2010

Source

Direct Seller

Description
Good growing and expanding construction and engineering company for sale with running business of revenue exceeding million and projected to hit $2m.



Good Listed company clients.

Company with many Quota

For EP/ SP / WP

Good for Permanent Resident application profile and entry to Singapore for migration purpose too.

Good for entering Singapore market for overseas construction firms.


Those who want to plug and play into construction industry.

Self run business with manager in place running business , owner works remotely most of the time.

Company Strengths:
- Fully Functional Entity & Operational Ready in both Construction & Process Sectors. No
Hassle of Painstaking Setting up Processes and Licencing requirements which directly delays operational readiness. Able to undertake and Kick Start Projects Immediately with ease.

- Good Track record of having done Main Civil Construction Packages on top of other Construction Projects. Giving an edge in engagements during tenders and establishing a level of Identity as a well-rounded contractor for a one stop solution.

- Attained necessary Accreditations & Certifications over the years enabling Higher Tendering Limits, Standards and Industrial Credibility.

- Good Client Relationship with Established Market players. A variety of undertaken scopes, edging competition within the Building & Civil Field.

- Consistent yearly Turnover averaging more than a Million each year.

- Properly maintained records with relevant governing bodies. Key Aspect to consider in taking over any company.
-

MAIN BUSINESS ACTIVITIES IN. 主要业务活动参与
i. OIL AND GAS & PETROCHEMICAL SECTORS (JURONG / BUKOM ISLAND)
石油和天然气和石化行业
ii. BUILDING CONSTRUCTION & INFRASTRUCTURE SECTORS (UNDER B.C.A)
建筑施工和基础设施部门 (新加坡建筑和建筑管理局)
iii. RAILS & TRANSPORTATION SECTORS (LTA - MRT PROJECTS)
铁路和运输部门 (新加坡土地运输局)

Company with running revenue and manpower and manager with HR.
It is auto pilot.






Premium Buyer
Business Statistics

Date Published

Last Update

Total Enquiries

Last Enquiry

Contact Information

Contact Person

Contact Number

Email

Company Name

Address

Website