Listing ID: 15545 Last Refreshed: 07/05/2019 Total Views: 1376
Hardware Store at Prime Industrial Location for Sale!!!
Jurong West
Asking Price: Available On Request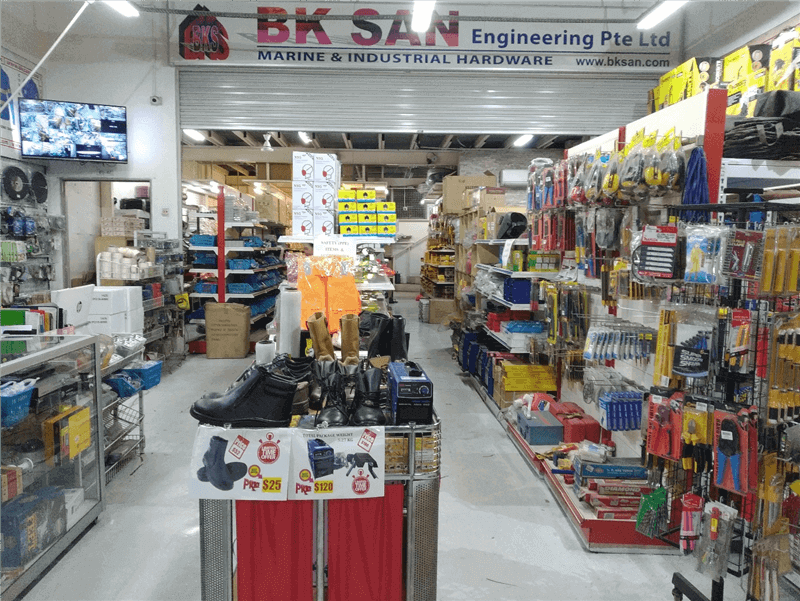 Premise Type

N/A

Premise Size

2600sqft

Monthly Rental

S$4,500

Rental Desposit

S$9,000

Revenue

N/A

Cash Flow

N/A

Gross Profit

N/A

Net Profit

N/A

Stock

N/A

Liability

S$0

Payable

S$0

Receivable

FFE

N/A

Established

2007

Owner Role

Full Time

Staff

3
Reason For Sale
Seller wants to focus on other businesses of the Company
Description
Hardware Store for Sale :
1. Full ownership of the BK San Hardware Store along with full inventory of stock materials.
2. Hardware Store is in the state of "seamless takeover and continue status".
3. Very good & Prime location – On Ground Floor / First Visible from the Entrance of the Pioneer Centre.
4. Tools/hardware/materials Inventory worth SGD 300 K (at cost price) available.
5. Option to take over the business together with the existing salesperson.
6. Zero takeover Fees.
Business Operation
0900 to 2100 hrs
Business Hour
Double Sided, Island Gondola Tier : 6 Height (cm): 210 Depth (cm): 36(Shelving),40(Bottom Shelve) Length (cm): 80 Back Cover: Metal Plate Decking Material: Metal Plate Loading Capacity: 60kg per shelf Colour: White & Red Qty: 8 sets Double Sided, Island Gondola Tier : 5 Height (cm):150 Depth (cm): 36(Shelving),40(Bottom Shelve) Length (cm): 80 Back Cover: Metal Plate Decking Material: Metal Plate Loading Capacity: 60kg per shelf Colour: White & Blue Qty: 3 sets Wall side Hooks Metal Perforated Racks Tier : 4 Height (cm):210 Depth (cm): 40(Bottom Shelve) Back Cover: Metal Plate Decking Material: Metal Plate Colour: White & Red Qty: 6 sets Heavy Duty Butterfly Hole Warehouse Storage Shelving Rack • Light weight, heavy load capacity. • Capacity up to 400 kg/level. • Easy to assemble and disassemble. • Vertically adjustable shelves. • Ideal for Home, Factory, Stores, Warehouse. • Simple ASSEMBLY REQUIRED! • Size: L250xD60xH250 cm Qty: 2 sets Slotted Angle Racks Tier : 4 Height (cm):180 Depth (cm): 50(Shelving) Length (cm): 80 Back Cover: Metal Plate Decking Material: Metal Plate Qty: 8 sets OTHER OFFICE MATERIALS: S.NO. ITEM USING BY QTY REMARKS 1 PC - LENOVO PC LED 23" BOSS 1 WINDOWS 8.1 OS 2 PC - LENOVO PC LED 23" SEELAN 1 WINDOWS 8.1 OS 3 PC - HP PC LED 23" NAGI 1 WINDOWS 10 OS 4 PC - PC SET(CPU + MONITOR) PRIYA 1 WINDOWS 7 OS 5 PC - PC SET(CPU + MONITOR) SUSAN 1 WINDOWS 7 OS 6 CCTV - IMPAQ 8CH DVR SET - 1 ANALOG TYPE 7 CCTV - NVR 8CH SET - 1 WIRELESS 8 TV - PHILIPS 43" - 1 FOR CCTV 9 PRINTER - FUJI - C2263N - 1 MAIN PRINTER 10 PRINTER - RETAIL POS - RP - 3250D - 1 BILLING PRINTER 11 PRINTER - TSC TTP - 1 BARCODE PRINTER 12 AC - PANASONIC INVERTER - 2 - 13 AC - MITSUBISHI INVERTER - 2 - 14 WATER PURIFIER - 1 - 15 FINGER LOCK DEVICE - 1 -
Facilities
Property Information
Pioneer Centre Ground Floor
Premises Details
Yes, it can relocate to other place
Relocatable
Premium Buyer
Business Statistics

Date Published

Last Update

Total Enquiries

Last Enquiry

Contact Information

Contact Person

Contact Number

Email

Company Name

Address

Website